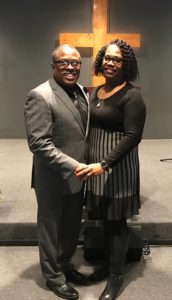 River City Christian Ministries believe that Jesus Christ is Lord and He brings meaning and fulfillment to our lives. We desire to see lives radically changed by helping to lead hearts to the Lordship of Christ, training and equipping them for good works of service, and impacting our local community and world for God as Jesus commanded of the disciples.
"Therefore go and make disciples of all nations. and baptizing them in the name of the father, the son and the holy spirit and teaching them to obey everything that I have commanded you." (Matthew 28:18-20)
We believe in the power of prayer and that the Bible is the true word of God. We hold the Bible as being the standard for our daily walk with the Lord and our fellowship with one another.
It is also our belief that baptism is essential to salvation (Acts 2:36-41).
The Ministry
Evangelist Mark Harris and his wife Venita are hometown sweethearts from Gainesville, Florida. They grew up together and attended the same elementary, middle, and high schools. They also attended some of their college years together. They were married at the Crossroads Church of Christ in Gainesville, Florida. Mark and Venita have been married for 29 years and have two children, Brittany 27, and Michael 25, who are both disciples of Christ.
Mark honorably served his country in the United States Marine Corps before being called into the ministry in 1986. He was appointed an evangelist in the Dallas/Fort Worth Church of Christ Jesus in 1992. He also served as a deacon in the Dallas/Fort Worth Church of Christ Jesus. Venita received her Bachelor's Degree from the University of Florida and also has received her Master's Degree from Walden University in Education.  She is currently working full time as a school teacher in Duval County.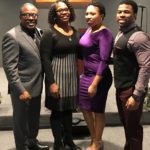 Mark and Venita have been in the ministry for 33 years serving churches in Gainesville, Boston, New Orleans, Dallas, (TX), and Jacksonville, (FL). They serve the River City Christian Ministry in Jacksonville Florida as Evangelist and Woman's Counselor.