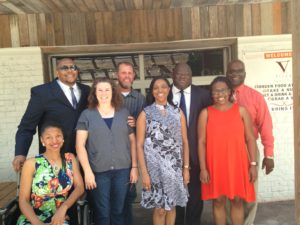 Deacon of Administration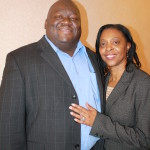 Dan Frazier is the Deacon of Administration for River City Christian Ministries. He also serves as the church administrator and church attorney.  Dan made Jesus Lord of his life September 1988 at the Columbia, SC Church of Christ where he was part of the campus ministry while attending the University of South Carolina Law school. Dan and his wife Veronica (Schofield) Frazier were married in March 1992 after meeting as singles in the Atlanta Church of Christ. Veronica was previously a member of the Cross Roads Church of Christ teens (Gainesville, Florida. 1977) and the Tallahassee Church of Christ, (Tallahassee Florida. 1985).
The Frazier's have also served as zone and family group leaders in the Jacksonville Church of Christ (Jacksonville, Florida. 1997), Dayton Church of Christ (Dayton, Ohio. 1999), and Dallas Church of Christ (Dallas, Texas. 2001). They are also members of the initial mission team planting of the River City Christian Ministries in May of 2011. Dan's mother (Cassie) and sister (Donna) are also members of the Church.
Deacon of Youth Ministries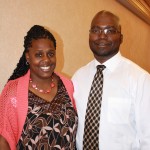 Salwa Thomas is from Brooklyn, New York and his wife Patrice is from Cleveland, Ohio. They met and married in San Diego, California where they both honorably served in the United States Navy. Salwa and Patrice have been married 21 years and have four children.; Reuben, Keoneu Simone, and Sierra. Salwa works full time as a Information Technology Specialist and Patrice earned her Associates Degree as  as Registered Nurse from Florida State College of Jacksonville and her Master Degree from Walden University; Patrice works as a Certified Diabetes Educator in Jacksonville Florida.
Salwa and and Patrice moved to Jacksonville, FL in 1995 just one month after being married and both were both baptized October 3rd 1996 at the Jacksonville Church of Christ. They have served as assistant and lead teachers in the Children's Ministry  starting at 6 months after they became Christians. They  co-lead the Pre-teen Ministry and led Young Teen Ministry. They taught the Sunday School class for the Young Teen Ministry.
Salwa and Patrice have been Christians for over 21 years and have worked with children's ministries over 21 years and teen ministries over 13 years. Salwa now serves as the Deacon  of Youth Ministries at River City Christian Ministries. His wife Patrice assist him in overseeing and coordinating the Children's Ministry, the Young Teen and Teen Ministry.
Deacon of Hospitality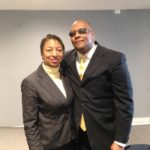 Royale Williams was born and raised in Bronx, NY and made Jesus Lord of his life on March 13, 1994 as part of the New York City Church of Christ.He graduated from the Chemical Recovery (CR) Ministry and then lead a sector in the Bronx for the CR Ministry from 1994-1996.  After moving to Georgia to be a part of the Atlanta Church of Christ he lead CR in the Stone Mountain Ministry.  He met his wife Roechelle, who became a disciple in January 1993, in the Singles Ministry of the Atlanta Church of Christ and they were married in November 1999. They lead the zone for young marrieds in the Stone Mountain Region.  Royale and Roechelle continued to lead the Chemical Recovery Ministry at All Nations Church of Christ and then the Greater Atlanta Church of Christ until 2009 when they moved to Melbourne, FL to be a part of the Orlando Church of Christ where they lead South Brevard, had Bible Talks, and started and lead the Campus Ministry at Florida Institute of Technology (FIT).  In January 2014 Royale and Roechelle moved to Jacksonville FL with River City Christian Ministries where Royale now serves as Deacon of Hospitality with his wife's support.
Deacon of Children's Ministries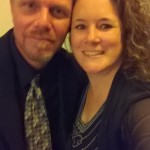 Tim Young was born in Pensacola but raised in Jacksonville, Florida. He moved to Atlanta, Georgia after high school in 1990 and became a Christian while attending Devry Institute of Technology. In 1994 he moved back to Jacksonville and joined the United States Army Reserves. Tim moved to Orlando in 1997 where he met Dana (Corley) Young, they both moved to Jacksonville and got married in 1999.  They have 2 children; Carissa (born in 2000) and Carter born in (2003). Tim studied at the University of North Florida (UNF) and received his B.A. in Deaf Education. In 2003 he began his teaching career and in 2007 he started coaching track and cross country. Tim was restored in 2008 at the Jacksonville Church of Christ and Dana was baptized there in 2009. They both served in the children's ministry for several years and both are currently working in the school system. in 2014 Tim and Dana began coordinating the children's ministry at River City Christian Ministries. They both now work directly with the teen ministry planning devotionals and activities to enrich the teens and pre-teens.