Thank you from the River City Christian Ministries. Our families and friends have supported, prayed, and loved us as we embarked on God's mission. This mission team started out in May 2011 with only faith and the hearts to win the city of Jacksonville for the Lord. We continue to be encouraged by the emails, phone calls, visits and support from all over the world. We thank you all with the love of the Lord and we are humbled and very grateful that the grace of our savior unifies us all.
Please keep us in your prayers that we will continue to reach souls for Jesus here in Jacksonville and all over the world.
Marty and Cathy Wooten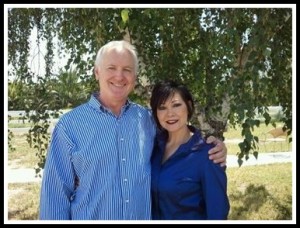 Dr. Marty Wooten and his wife Cathy met in Tulsa, Oklahoma, and later dated and married at the Crossroads Church of Christ in Gainesville, Florida in 1981. The Wootens have three children. Marty was baptized in 1970 and Cathy in 1978.
Marty and Cathy were Evangelist and Woman's Counselor at the Crossroads Church. Marty and Cathy served churches in Gainesville, Florida; Denver, Colorado; Boston, MA; Berlin, Germany; and Los Angeles, CA. Together, they planted the Denver Church in 1986 and the Berlin Church in 1991.
Cathy earned a Bachelor of Science degree in Nursing at Louisiana State University in 1978, and Marty earned a Bachelor of Arts degree at Oklahoma Christian University, a Master of Divinity degree and Doctorate at Harding Graduate School, Memphis, TN and a Master of Theology degree at Fuller Theological Seminary in Pasadena, CA, all in the field of Biblical Studies. Marty has always been known for his preaching and insight into God's word and Cathy for her ability to teach and counsel women. Presently, Marty works for Techmed, LP, a company investing in Medical Practices, and Cathy works as a Clinical Nurse Manager at a large Vascular Surgery Center. Marty and Cathy presently live in the Los Angeles area.
As the Youth Minister, Marty met Mark Harris at the Crossroads Church of Christ when Mark was in Junior High. Years later, Marty studied the Bible with Mark, who later became a disciple of Christ and was baptized. Marty also had the particular pleasure and honor to marry Mark and Venita in Gainesville In 1988.